Azure Virtual Desktop is a cloud-based Virtual Desktop Infrastructure (VDI) solution from Microsoft Technologies. It allows organizations to quickly deploy and secure Virtual Desktops for user consumption. This solution can help organizations become more efficient and cut the physical costs of infrastructure, as well as the labor required for management. As the workforce has shifted to remote work in recent years, Azure Virtual Desktop has become one of the leading solutions. This article will detail how Azure Virtual Desktop can help an organization transform its business into the future of remote work.
What is Virtual Desktop Infrastructure (VDI)?
Virtual Desktop Infrastructure or VDI provides a means of allowing remote access to either specific applications or a whole virtual desktop experience. For many years, the only way to deploy this solution was on-premises, with all physical machines at most often more than one datacenter. This evolved with technology to allow virtual servers that made up the infrastructure. In more recent years, it's become possible to have an entirely cloud-based or hybrid model. Let's look at what some of these architectures might look like and what makes up the modern on-premises and cloud-based VDI solutions.
Remote Desktop Services (on-premises) & Citrix
With traditional on-premises VDI, the two main competitors in the VDI space have been Microsoft Remote Desktop Services (RDS) and Citrix. For the purposes of this article, we will be focusing on Remote Desktop Services. Running an on-premises Remote Desktop Services Solution requires the following components at a minimum: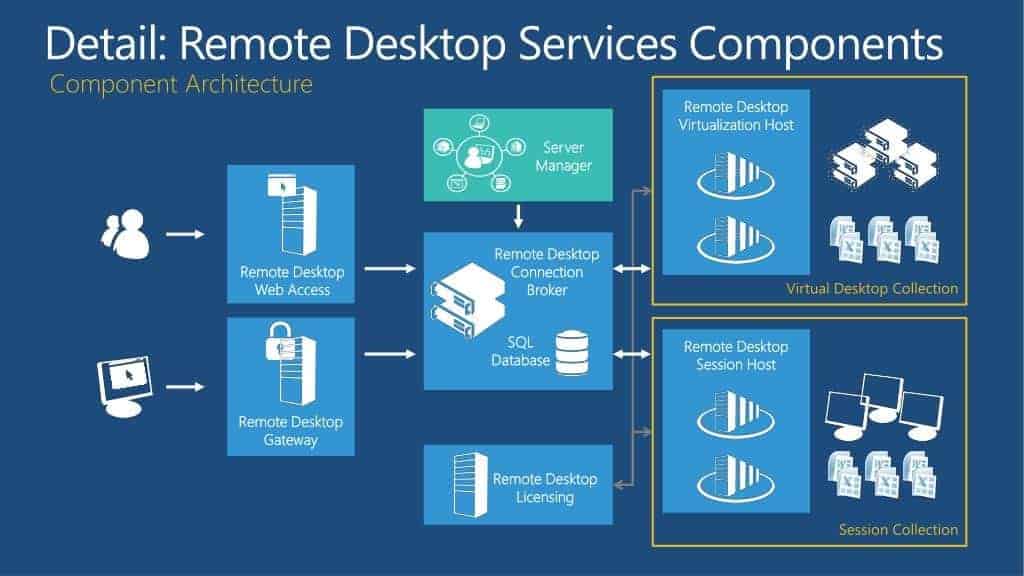 We can see from the minimum requirements there are a lot of servers! Then, for instance, say that your organization requires separate collections for specific departments due to the nature of their line of business; that will be more groups of servers. Then there's the matter of optimizing the user experience. This usually involves a multi-tiered storage system and User-Profile Disks, which involve even more infrastructure and costs. It's also essential to secure the deployment, perhaps by adding F5 BIG-IPs into the mix to segregate the internal users from the external users, such as in this example:
Things can quickly get quite steep cost-wise and resource-wise in the most robust on-premise virtualized environments.
Is there a more efficient, cost-effective solution?
Windows Virtual Desktop is now Azure Virtual Desktop
Recently Microsoft rebranded Windows Virtual Desktop to Azure Virtual Desktop. But the name change really isn't the big improvement here. Azure Virtual Desktop is an Azure Cloud based Application and Desktop Virtualization Service or cloud-based VDI solution. This is a platform-as-a-service (PaaS) offering, which means that administrators don't have to maintain any Connection Brokers, Gateway servers, etc. One of the best features is that most organizations already have most of the licensing; more on that later!
Azure Virtual Desktop Requirements
The following items are required for Azure Virtual Desktop:
Azure Active Directory
Active Directory Synced to AAD or Azure Active Directory Domain Services (optional but either is recommended over Azure AD only)
Users must be sourced from the same AD or AAD DS in the same tenant, AVD does not support B2B or MSA accounts
Host machines must be joined to AD, AAD, or AAD DS
Connectivity from the Azure Virtual Desktop subnets and the authentication source
Azure Virtual Desktop Components
Azure Virtual Desktop is made up of 4 main components:
Host Pools – Pools of Azure Virtual Machines that run as Remote Desktop Services Session Hosts, running the Azure Virtual Desktop Agent. These are the only Virtual Machines that must be maintained and administered for the deployment. There are two types of Host Pools

Personal – each host is given to an individual user; these would be considered persistent
Pooled – session hosts can accept connections from any user authorized to an app group in the pool, these would be considered nonpersistent

Application Groups – logical grouping of applications installed on session hosts in the host pool There are two types of App Groups:

RemoteApp – where users access RemoteApps individually that are published to the App Group
Desktop – users access a full desktop

Workspaces – A workspace is a logical grouping of application groups in Azure Virtual Desktop
User Profile Storage – This is needed for Pooled host pools to retain user state. Learn more about User Profile Containers and Storage
FSLogix User Profile Containers
Here is one example reference architecture from Microsoft that includes Active Directory and Storage: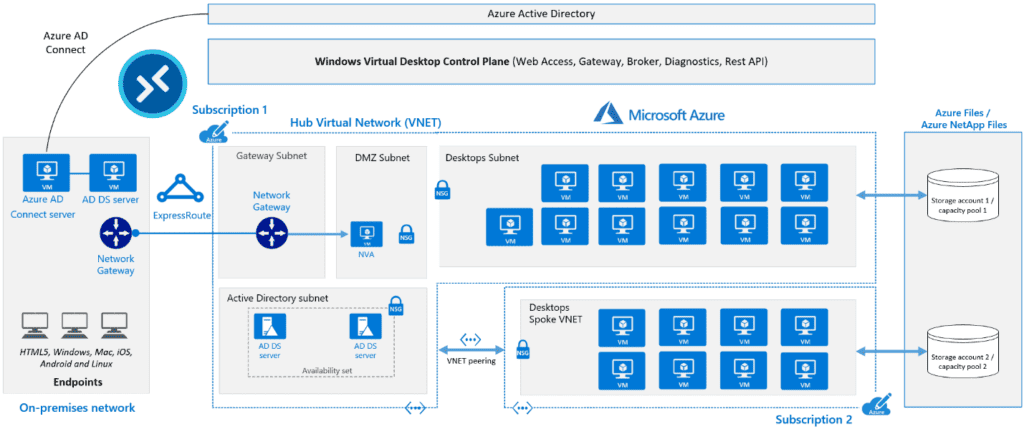 Azure Virtual Desktop Pricing
Alright, at this point, the reader must be asking themselves, "This sounds great, but….how much is this all going to cost?"
Azure Virtual Desktop usage is charged in several places:
Licenses are required to run Windows 10/11 multi-session but are included with any Microsoft 365 E3 or E5 subscription. If your organization already has one, then you're already set here!
Session Host Instances follow the same usage pricing as all Instances, by their hourly uptime
It's possible to save big here by reserving the instances upfront for 1 to 3 years.
Azure Virtual Desktop Cost Calculator
Check out the Pricing Calculator to get an estimate of what it would take to run this solution for your organization.
Azure Virtual Desktop Experience Estimator
Another tool Microsoft offers is the Azure Virtual Desktop Experience Estimator
This tool will allow engineers to estimate the user experience when connecting to Azure Virtual Desktop.
Future of Remote Work
In today's fast-paced work environment, organizations with the edge in technology have the edge in the marketplace. Being able to adapt to changes in the workforce and market trends are the cornerstones of organizational success. With the recent shift to remote working, more strain has been placed on IT teams to deliver secure, convenient solutions to end-users. In the past, this involved running, maintaining, and administrating a whole lot of infrastructure.
Providing these services and solutions has never been easier than with the development of Cloud-Based Virtual Desktop Infrastructure (VDI).
Azure Virtual Desktop may possibly be the future of remote work.